KI-72 it's the first brand that concentrates the attention on the effort that are being made at a global level in order to lower the polluting processes. KI-72 name origins from a series of microorganisms that have been catalogued as "nylon eater" and discovered during the 70's.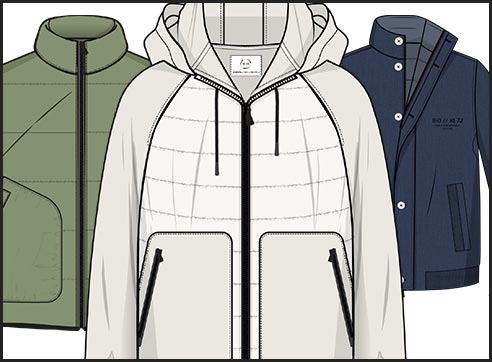 Biodegradable
The BIO collection it's the first collection 100% biodegradable in every details, from the fabric to each accessory used on the garments.
Every style has been realized with the aim of reducing the final harmful impact on the environment.
Reborn
The styles of the Reborn collection are realized exclusively with materials deriving from stock of past production processes. Every garment is unique and encloses a soul linked to the circular economy principal that reduces the wastefulness of resources and the fabric scraps.
Recycle
This collection's styles have been realized through the use of recycled materials.
The proposed shapes and the quality result are linked to the material research and to the application of the more up-to-date technology in the outerwear field, with a conscious attention in lowering the final wastage.
C-Clika jacket is the KI-72 UNISEX iconic style totally Biodegradable, including buttons, padding and zippers.
Thanks to a patented design and a packable system, this jacket can be transformed into a comfortable bag.
This bag can then be worn alone or applied to backpacks and belts.
Mission
KI-72 brand mission is to be engaged in lowering the final environmental impact of the production process, either by looking for recycled and innovative materials or by endorsing the circular use of resources.
Ethics and transparency are the two keywords for KI-72 brand: all raw materials and the workmanship involved in the collection are granted by the most important international certifications on the sustainable fashion field.
We look around and from what we can clearly see we are not treating our world with the necessary and due respect. KI-72 aims to give its contribution through the choice of "wearing the sustainable" which brings also the outerwear garment to be in line with the very urgent behaviours the nowadays society is asking us to adopt.